Restaurant
& Bar

Virtual Tours

360° Fully Immersive Virtual Tours & Photography for Restaurants, Pubs and Bars.

 A 3D walkthrough enables your customers to experience your Restaurant / Pub as if they were really there, going far beyond photographs and 360 tours, helping your Venue stand out from the competition.
Create the best experience with a 3D virtual tour
With Matterport, what visitors are seeing online is actually how your Restaurant / Pub looks in real-life. By providing the most realistic representation possible, customers feel more confident and more likely to book.
Embed your 3D space on your website
Add your menus & reservation links
Highlight services & facilities
Add information tags to highlight range of drinks
Use photos & video
Google Street View Tour
Add 3D assets to your tour for games & customer engagement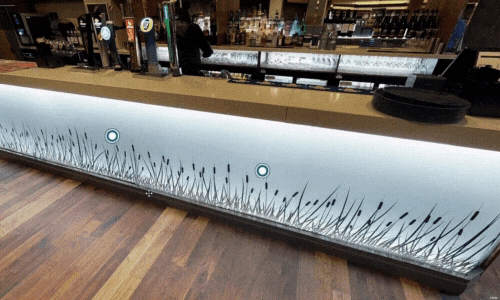 Multimedia MatterTags
Add Mattertags to your tour containing multimedia including text, images, links & video
Use Mattertag Posts to highlight key features within your property 
including text, images, links & video. 
Using Mattertags you can link through to a brochure / menu with additional information, selection of photos, video or just text to highlight a specific service or facility within your property. Mattertags can be especially useful for ecommerce to show products within your store with a link to purchase the item online. You can also include links to your website and social media.      
Google Street View
Publish your tour to Google Street View so you and your business can reach an even bigger audience...
Why Google Street View (GSV)?
Google maps 360 tour is the de facto way businesses of all types are found. Having a good search listing is crucial, especially for local businesses. According to Ipsos, businesses with search listings are 94% more likely to be viewed as reputable, 38% more likely to be used than businesses without a listing, and 29% more likely to motivate consumers to consider purchasing goods or services from them. 
If those weren't reasons enough, listings with media rich content such as Google Business 360 Street View rank higher in search results, and once found, generate more interest and engagement. According to Google:
* When searching for businesses, consumers use mapping products 44% of the time
* Listings with photos and a virtual tour are twice as likely to generate interest
* On average, 41% of place searches result in an on-site visit
Use a Google 360 Photographer and Matterport 3D virtual walkthroughs with Google Street View integration to enable potential customers to experience your business as if they were really there, and help your business stand out from the local competition.
Add Google Street View, get in touch for more information.
Gamify
your

Virtual Tour

Create more interaction with your virtual tour by adding 3D assests for seasonal promotions such as Easter & Christmas to find easter eggs and christmas presents.
Run social media giveaways for finding the right amount of easter eggs / presents etc.

Check out the following example tour, can you find the 6 hidden cadbury creme eggs?
3D interactive
doll house view

& top down floor plan view

Proprietary Dollhouse View shows your property in 3D how the entire property fits together. The Matterport Dolls House View sets a Matterport 3d Virtual Tour from any other product on the market. Viewers can rotate the model at any angle to fully appreciate the layout and how the property fits together.

Select between floors and glance with top-down Floorplan View of your property.