Interactive VR
Go interactive and offer your visitors the chance to explore your space in virtual reality using VR Headsets
Use virtual reality to increase the number of people who walk through the door, whether that's by pre-arranged appointment or impulsive walk-in business. A dedicated virtual reality zone can become an engaging space in which to conduct virtual viewings, with the ability to tour multiple properties in just one visit.
Home movers can simply put on a headset and enjoy viewings that replicate a real life visit. For agents, the ability to show people as many as 15 different properties in 15 minutes - without leaving the office - is a brilliant time saver and an astute applicant qualification tool. It cuts down the number of hours wasted on pointless viewings and leaves agents to personally accompany only the viewings that stand a high chance of generating an offer.
Matterport tour can be viewed using a smartphone together with Gear VR, Google Cardboard or Google Daydream.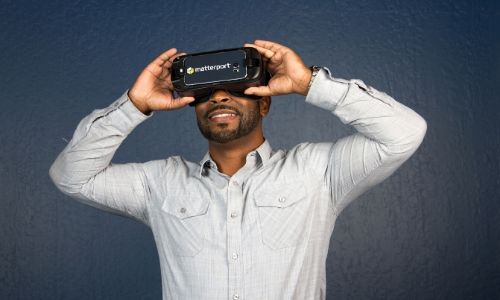 View more interactive features
to showcase

your property...

Customers can navigate your property like a computer game with 3D dollhouse view & interactive multimedia tags for more information, photos, video, ecommerce, bookings & more!